Community Fund

June 2015 - The fund stands at $1206.41. Great progress ... however let's work on increasing it some more. The community benefits!!
As part of the development of the Community Hub at the Town Hall, the building will undergo a major refit. Our grand old hall will be 130 years in 2013 and has a rich history. Indeed, it may evoke your memories of significant past events and major family occasions.
The opportunity now exists for public donations, allowing you to contribute towards the project and assist the recognition of this community achievement.
Recognition could be in a number of forms and your ideas are welcomed:
artwork for public areas in the hall or stained glass window (eg. Borough seal),
a commissioned sculpture for the lawn area,
inscribed "supporter" tiles or pavers in the new building area,
equipment for the facility, either external or internal. eg. seats, bbq, etc.,
recognition of valued community members, or current era history,
furnishings, a commemorative plaque, contribution to clock restoration, etc.,
and, no doubt many more of your ideas.
Donations can be made through the Inglewood & District Community Bank (account details below)
You can download the Donation sheet here Donation
The funds will be held in trust under the control of three community members "the Fund Committee", drawn from the Bank, the Town Hall Committee and the Inglewood Development and Tourism Committee.
Contributions to the fund can be anonymous or made public when the final register may be displayed.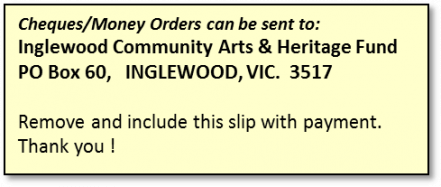 Many thanks for your consideration and donation!
Gifts
A lovely letter and donation was received from Don Brownbill of Parkes NSW. Don reminisced about his times in Inglewood and the Town Hall. His gift was in memory of his father, Lindsay Brownbill 1928-2003, who farmed most of his lift at Arnold West. Thanks Don, for taking the time to correspond.